I had a dream the other night that took place in the future.
Our family was secure, stable and happy. All of my Nephews, Nieces and Cousins were fruitful and stable. We were at the top of the food chain and enjoyed life fullwize.
My Parents, still happy and at the helm, my Nieces, Nephews and Cousins taking more and more responsibility for family doings: went to the beach for a picnic, Family and Friends.
I was in the back of my cousins truck occasionally rubbing asses with a girl when I saw it coming....a tidal wave.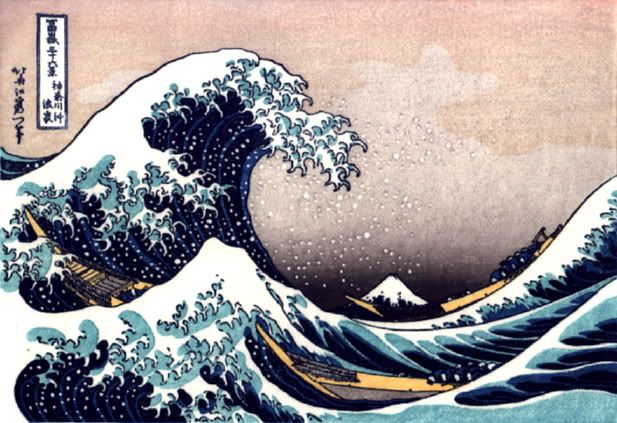 I shouted a warning. Stood in awe as the preceding spray passed over us like a canopy...and helpless to prevent anything, watched my parents swept away................ awoke way down the street that lead to the beach.
I franticly made my way back over sand and debris but as I got closer my only obstacles were waiters, waitresses, Shop keepers and vendors.
As I reached the end of the street where the beach used to begin, I came face to face with a Building, "The Dooms Day Chapel", (A memorial to those who died in the "Great Tidal Wave tragedy).It stood where our favorite spot had been. The beach was forever closed to the public.
It was a few min from closing and the woman was already closing the door. I exclaimed, "Please I have to know! Who died???...Are my Parents all right?...my Nieces, My Nephews, My cousins, My Friends????
And a man opened the door and said, were closed but you can look through the door at the memorial...and as I peered through the opening I saw the brass monolith and on it were written two names.
The name of little boy not from our family whose name I did not recognize....and Mine.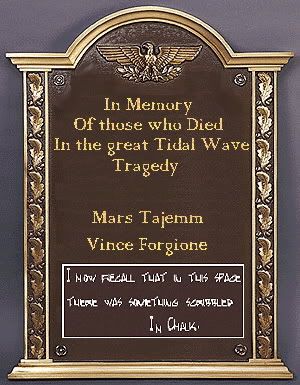 http://img.photobucket.com/albums/v382/oxojamm/PLAK2.jpg
Vince.
Amendment: The other name, "Mars Tajemm" although sounding familiar, I do not recall ever having known anyone by this name.It was a "Dream Thing" that I somehow knew that he was a Boy.
Who this person is and the subliminal meaning of this dream have me perplexed. I welcome all possible explanations.
Amendment II: In the dream and afterward, I never felt distressed that I was Dead. Only a kind of Peace that my Family was safe, and to that, the only family members who were there were tho'se whom I still have concerns about. Family who are, "safe".... were not in the dream.